< Our work
A fearless visual signature with purpose
The challenge
Renewi, a pioneer in the waste-to-product sustainability space, wanted to position itself as more than just a waste-to-product company. Creating a dynamic, high-impact visual property to relaunch Renewi's corporate values and tell its sustainability story (internally and externally) would be key to this.
We needed a visual treatment that would capture the essence of its brand ethos and purpose: enabling the circular economy by giving new life to used materials. Employees also needed to feel part of a bigger journey in protecting the planet. How to create cut-through in an over-saturated sustainability space? Through meaningful creative with energy, edge and impact.
Industry
Recycling
Services
Design, Animation, Stakeholder comms, ESG, Employer brand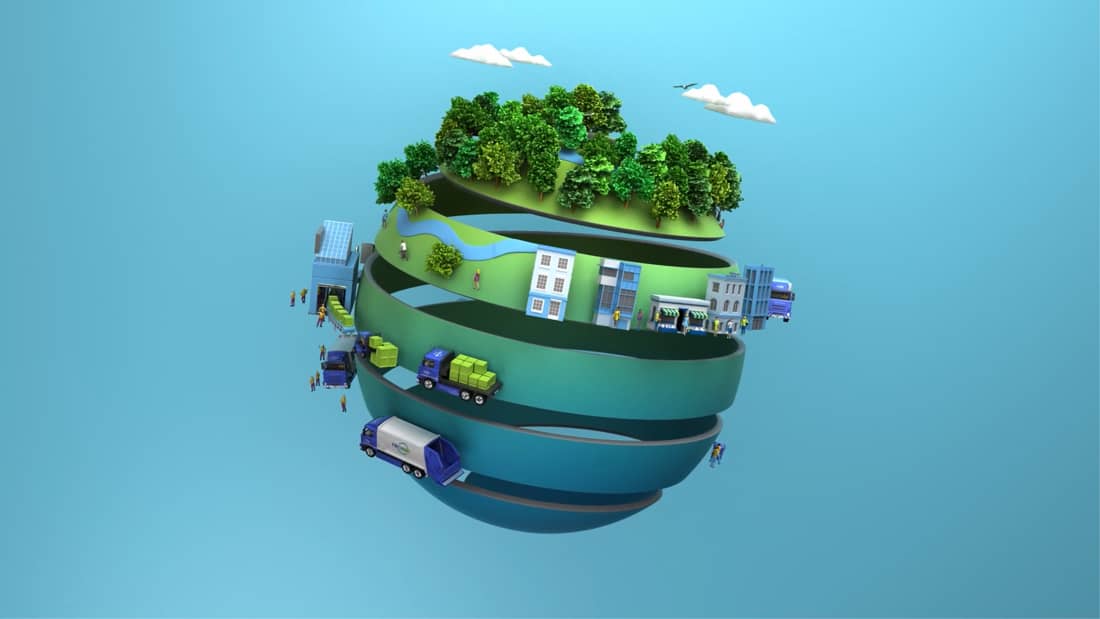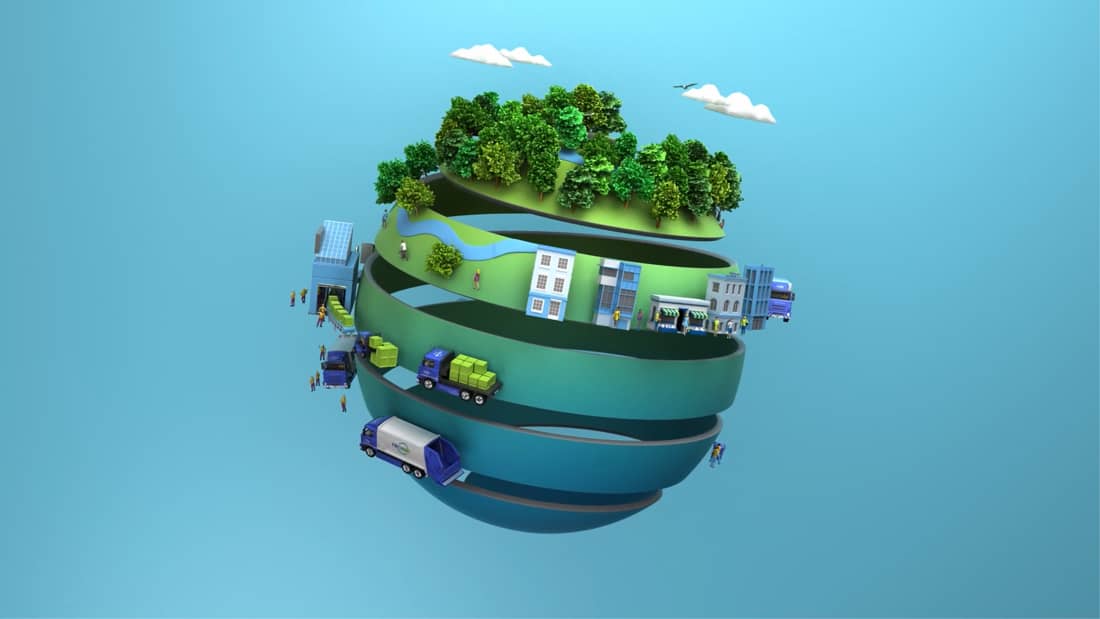 Our fearless approach
We developed four CGI globes that express the Renewi story in an instant. Versatile enough for use across multiple mediums in different ways. Playful enough to be intriguing and unexpected. To represent the four facets of Renewi and how each contributes to the circular economy, our studio created a main globe, people globe, recycling globe and sustainable cities globe.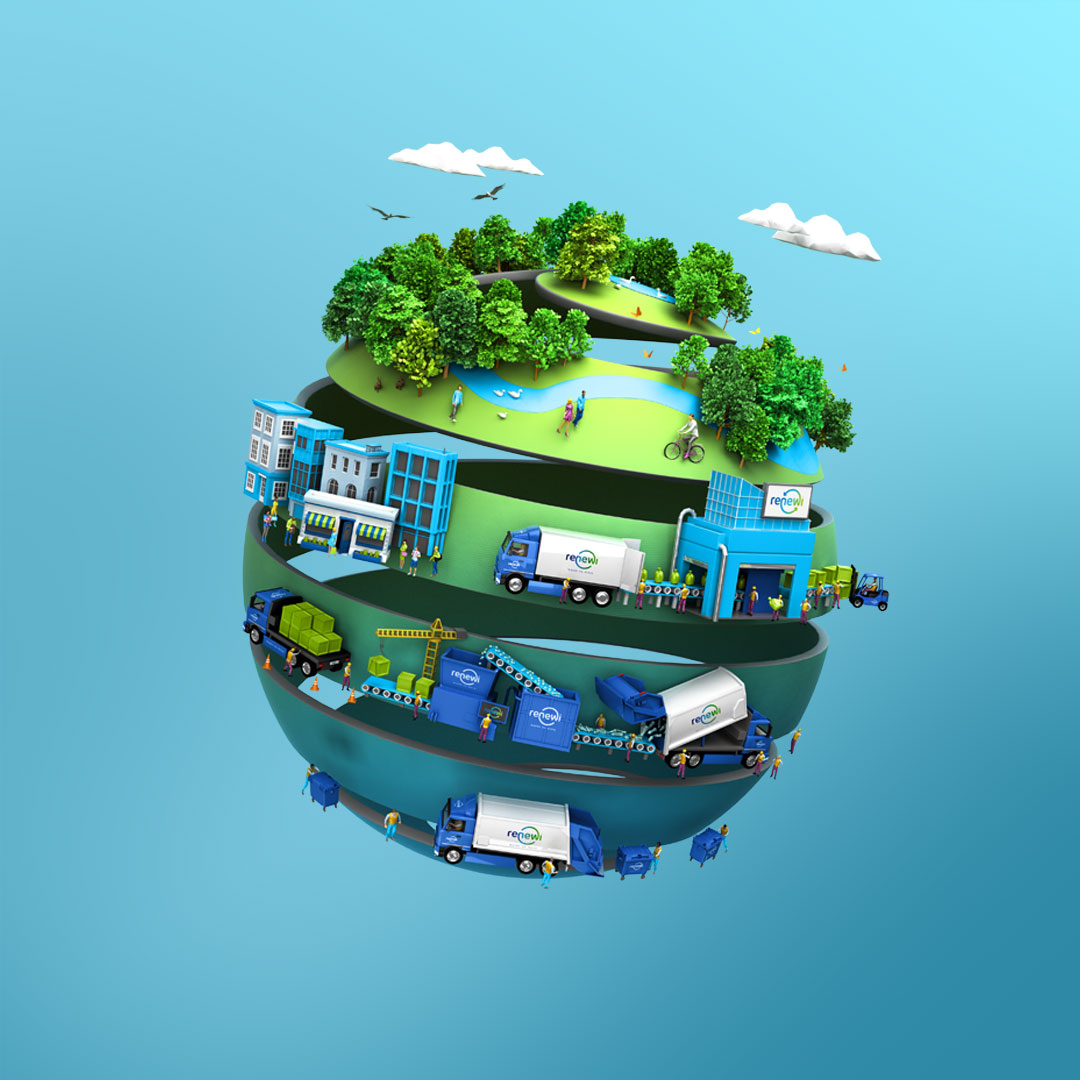 Balancing inspirational with intricate and realistic, this new visual signature reflects everyday Renewi activities. All treatments, in animated and static formats, feature accurate renders of company trucks and detailed depictions of its processes, unfolding artfully around each globe. At each apex is the outcome of Renewi's work: a green planet and a cleaner, better world.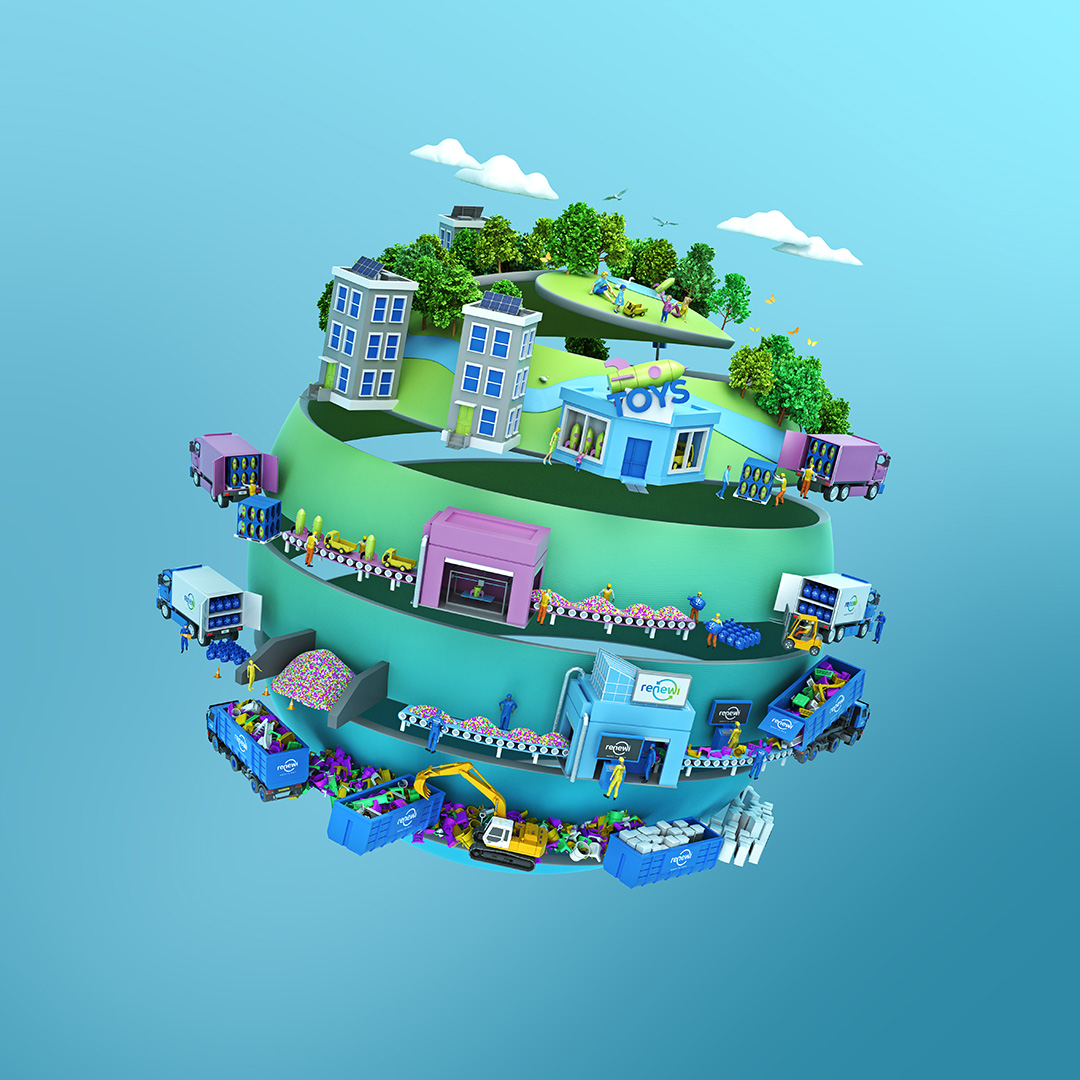 The impact

This creative is a new visual metaphor for Renewi and has become part of the company's brand identity. The globes feature across its communications everywhere – from the covers of Renewi's crucial reports to Teams backgrounds for staff globally. Multi-awarding-winning, this work has unboxed the serious topic of waste management.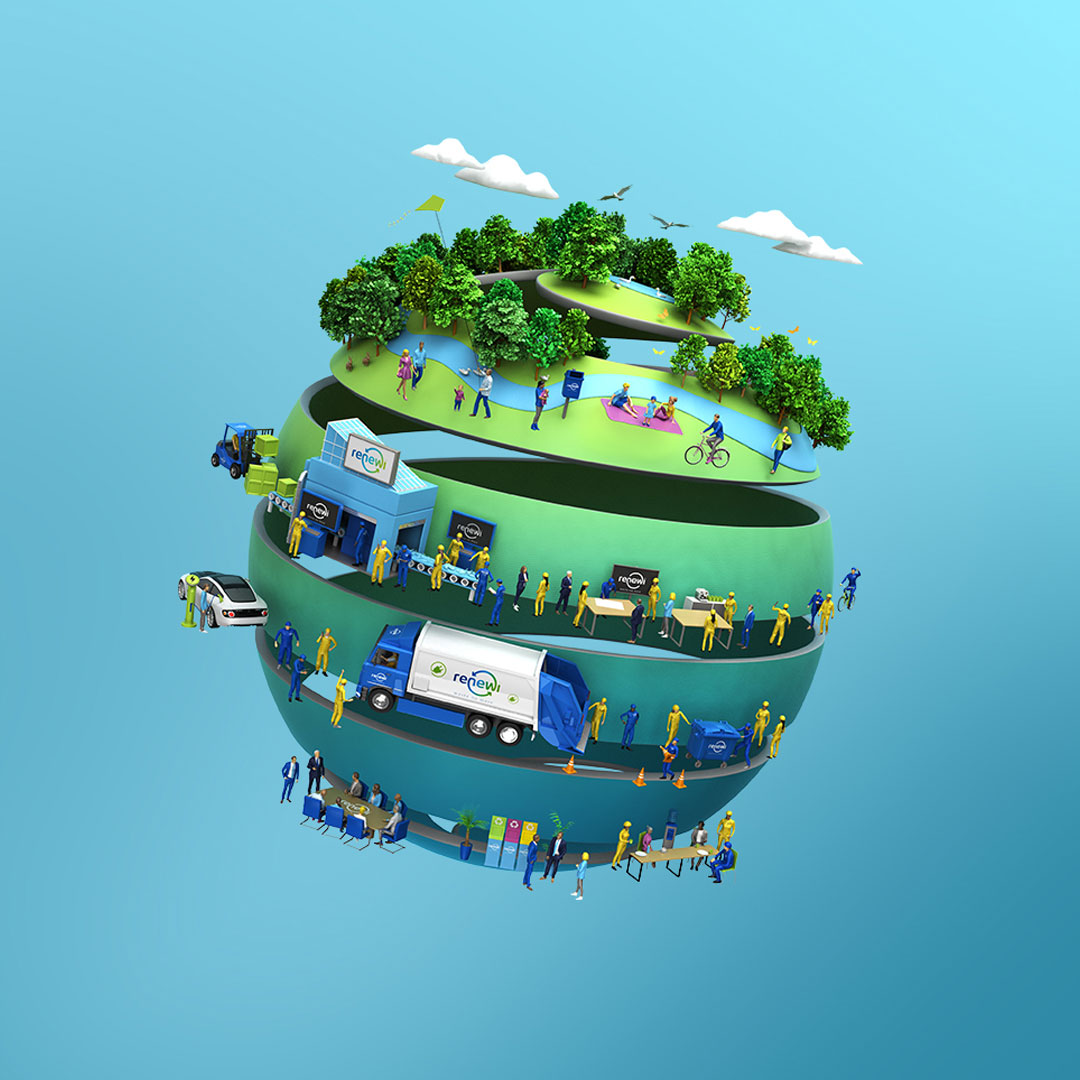 Three of the globes also formed part of an internal employer branding 'Purpose' campaign, alongside another Wardour-designed asset, the Renewi game. The game has landed industry accolades, including for internal engagement. Employee engagement and mood scores also rose internally as a result of the Purpose campaign.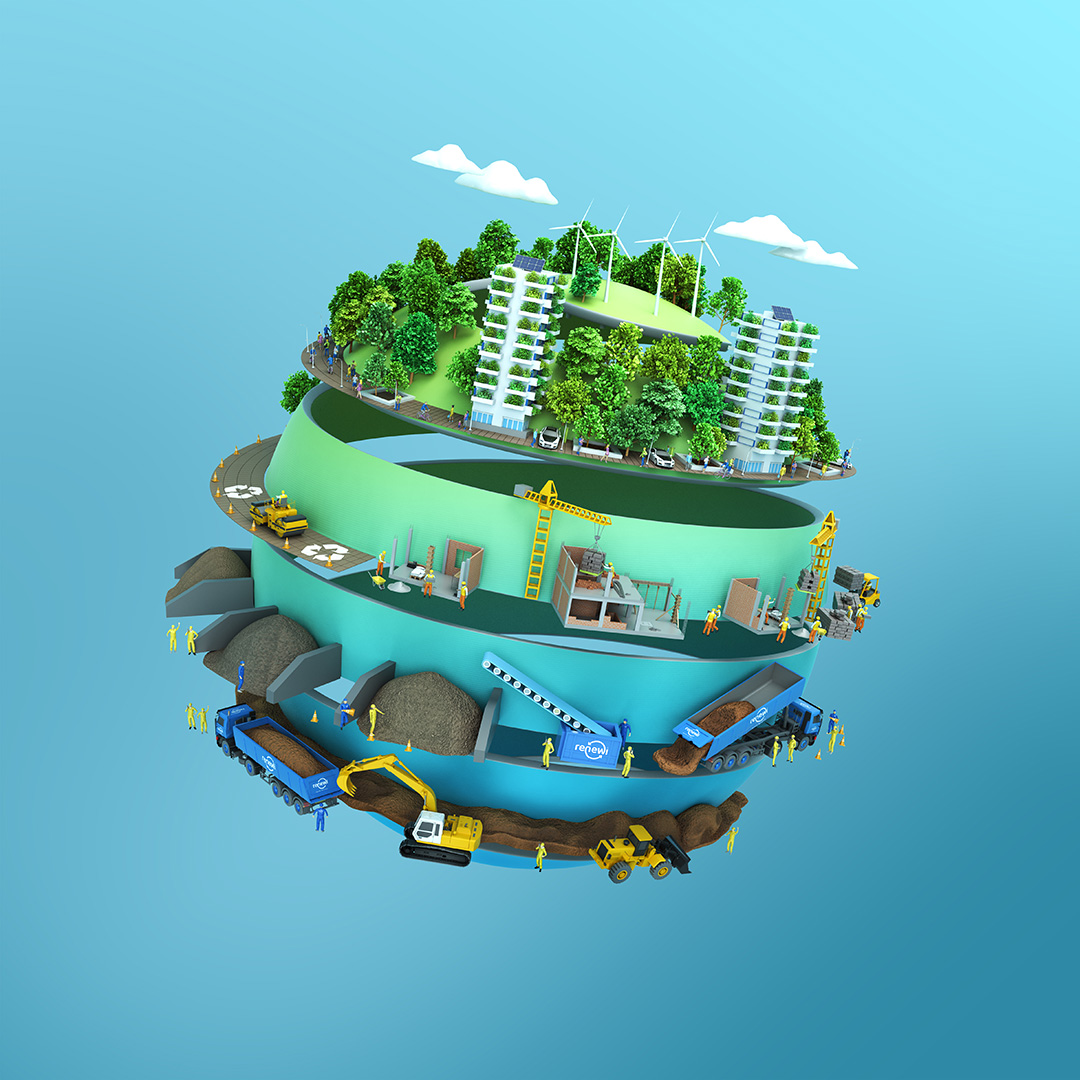 Our collaboration with Wardour is a remarkable journey. Their ability to understand our brand and industry, combined with their exceptional storytelling skills, has consistently delivered outstanding results that exceed our expectations
Our awards with this client
Astrid Awards 2023
Gold – Annual Reports: Online – PDF
Silver – Annual Reports: Covers – Special treatment
Corporate Content Awards (Europe) 2023
Gold – Best use of animation
Gold – Best use of a visual property
Digital Impact Awards 2023
Silver – Best use of digital in the industrial and basic materials sector
Employer Brand Management Awards (EBMAs) 2023
Bronze – Best onboarding/reboarding programme
Internal Communications and Engagement Awards 2023
Highly commended – Best innovation
Mercury Excellence Awards 2023
Gold – Annual report cover design (special treatments)
Summit Creative Awards 2023
Gold – Annual report
Corporate & Financial Awards 2022
Silver – Annual report small cap
LACP Vision Awards 2022
Silver – Annual report (Top report in UK)
Strategic Comms Awards 2022
Gold – Best annual report - small cap (Strategic Comms 2022)
Ready to be fearless?
Get in touch.