< Our insights
Wardour strikes gold at Corporate Content Awards
Published Feb 14, 2018 – By Tim Turner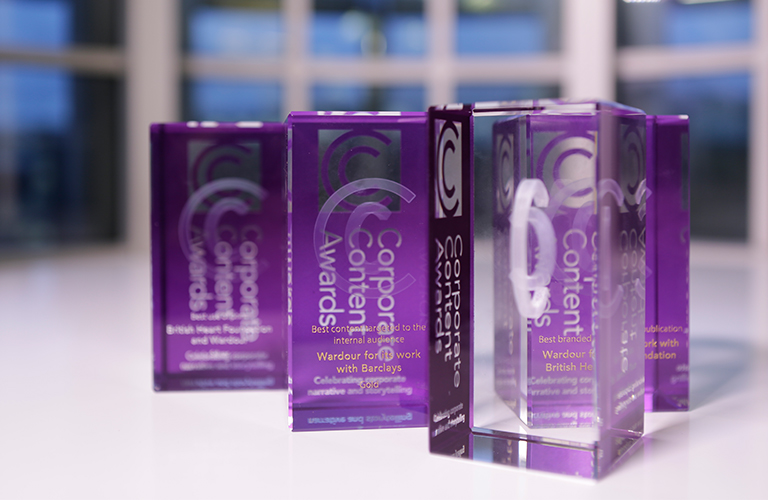 Winning two gold awards was the highlight of a successful night for Wardour at the inaugural Corporate Content Awards.
The company's work with Barclays on digital employee publication My Globe was recognised with the gold award for 'Best content targeted to the internal audience'. The judges praised My Globe's "clever and engaging approach, which humanises a challenging industry".
Meanwhile, Heart Matters, which Wardour produces for the British Heart Foundation (BHF), was named 'Best branded content publication'. Indeed, the citation calls Heart Matters "the gold standard of branded content publications", with the judges describing it as "authentic, original, impartial and people-focused".
Those weren't the only Wardour wins on the night, though. In total, the company won seven awards, the remainder being:
Silver for the Gemalto magazine The Review in 'Best branded content publication'
Silver for the BHF's Heart Matters in 'Best use of print'
Silver for the Entrepreneur Club app and microsite developed for St. James's Place in 'Best use of data'
Bronze for Hays Journal in 'Best branded content publication'
Highly Commended for the Gemalto content microsite /review in 'Best branded content site'
The awards recognise Wardour's excellence in creative content, corporate storytelling and communications. The Corporate Content Awards benchmark the use of narrative to engage corporate audiences across owned, earned and bought media. Held at the Victory Services Club in central London, the 2018 event welcomed attendees from a variety of organisations and agencies. Claire Oldfield, Wardour's Managing Director, said: "We're delighted to win so many trophies at these inaugural awards, and across a range of disciplines, both in print and online. We describe ourselves as an agency with content at our heart, and we're immensely proud of the content we create for all our clients. Pleasing them is our priority, but it's always extremely gratifying when the quality of our work is recognised by industry experts." For further information, please contact Teodora Rousseva at teodora.rousseva@wardour.co.uk
Stay ahead of the curve
Sign up to our emails