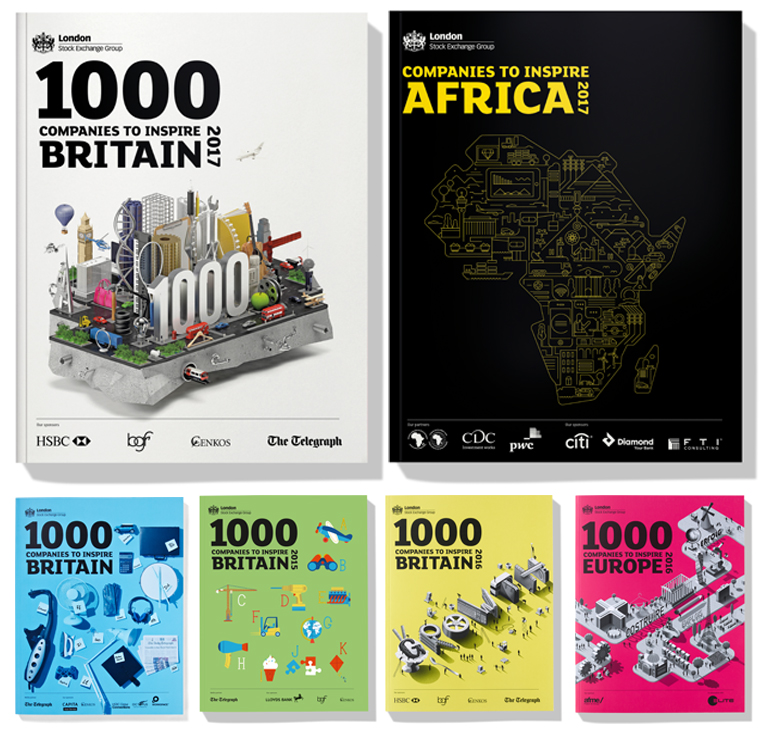 It's Wednesday morning, May 10th 2017. The balconies over the foyer at London Stock Exchange Group's (LSEG) Paternoster Square HQ are lined with hundreds of people waiting for the Market Open ceremony.
It's a daily tradition, usually marking the admission of companies to the market. This one is different. It celebrates the launch of the annual 1000 Companies to Inspire Britain report. This publication, which we deliver for LSEG, showcases the UK's thriving and inspiring companies.
As the pips sound each second closer to 8am, some of the Wardour team join representatives of those companies that are highlighted in the report, waiting for the start of market trading. It might happen every day, but the Market Open never ceases to be a special moment.
We've worked with LSEG for five years. A global institution, it is a dynamic force in the financial industry both in terms of its standards and its practices. The 1000 Companies to Inspire report is one of the key projects we deliver – and an important one for LSEG.
It underlines LSEG's support for dynamic businesses by shining a light on the small and medium sized companies that are vital for a healthy, diverse economy. It has been so successful publications have been created from Britain to Europe and Africa, identifying the most dynamic companies across different countries from across a diverse range of sectors.
Companies that make the final cut have to reach some pretty exacting standards. In Britain, data company DueDil compiles the list of companies that fit LSEG's criteria, one of which is three years of sustained growth. Each year the list is a true snapshot in time – reflecting the sectors and trends that will shape the future of the economy.
Being named in the book is admittance to an exclusive club. Endorsement comes from industry and politics. Expert commentary, picking up on key themes, is mixed with forewords from prominent politicians, which this year includes Prime Minister Theresa May. They sit alongside views and insight from the project's sponsors; BGF, Cenkos, HSBC and The Telegraph.
Some of the businesses included this year are homeware retailer Oliver Bonas, soft-drink producer Fever-Tree and happy-go-lucky diner-inspired eatery The Breakfast Club.
The 1000 Companies to Inspire publications perfectly sum up the work we like to do at Wardour. They join the past, present and future together. Beyond that, it's a chance to meet some of the entrepreneurs who are shaping the world in which we live.
Stay ahead of the curve
Sign up to our emails