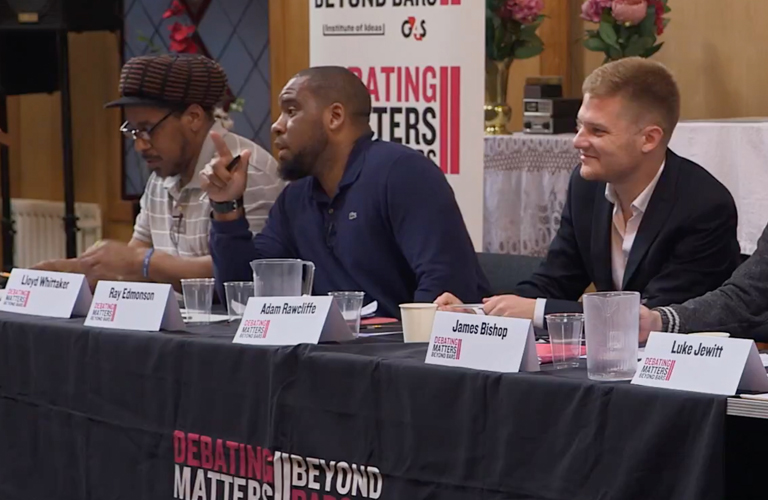 The Debating Matters Beyond Bars project is a pioneering debating initiative launched by G4S in partnership with the Institute of Ideas, hosted at HM Prison Birmingham.
Based on the Institute of Ideas' existing schools debating competition, the ground-breaking project saw prisoners of all ages and backgrounds team up to engage in debate on a range of social, political and cultural topics, including role models, space exploration, secular society and privacy online.
Designed to make the prisoners think more broadly about issues affecting the outside world, the project also helps to improve skills vital for future employability – several local employers are invited to watch the event along with friends and family – and boost confidence.
Filming the competition came with many logistical challenges due to the tight schedule and high levels of security, but the final video is a great overview of an admirable and important project, for both G4S and the national prison system.
"Doing anything new in prisons is quite a difficult process," says Pamela Dow, Chief Reform Officer at Catch 22, former Director of Strategy at the Ministry of Justice and Debating Matters judge, who worked with the Institute of Ideas to launch the project.
"But we have to stop seeing prisons as an 'other' public service that taxpayers or voters don't care about. We should be holding them to the same standards as our schools and our hospitals.
"G4S and HMP Birmingham were the first ones to take the risk to help us hold Debating Matters Beyond Bars – and I can't think of a more pro-social activity."
You can watch our video, or find out more about the initiative here.
Stay ahead of the curve
Sign up to our emails