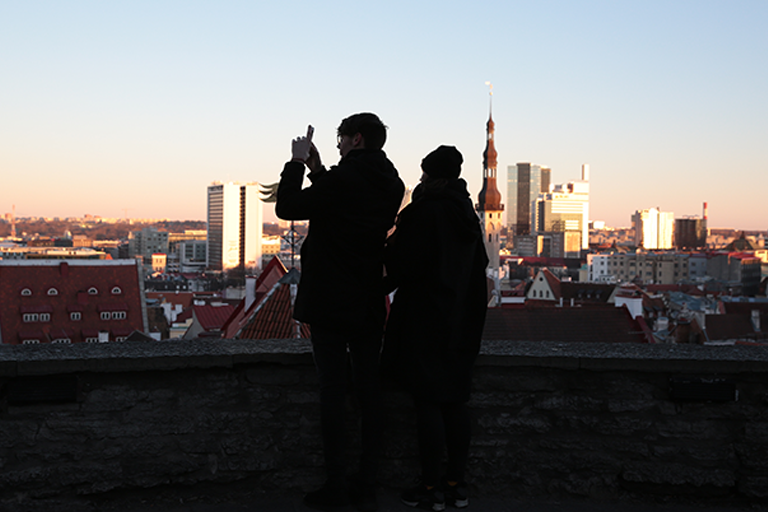 For a London-based agency, we get around quite a bit: this week alone we've sent one team to Edinburgh for a big client meeting, while another group are about to leave for Paris.
But recently, an intrepid trio boldly went where no Wardourite had ever been before: Tallinn. Videographer Peggy, art director Dean and photographer Johanna spent an enjoyable – if bone-chillingly cold – three days in the Estonian capital on an assignment for digital security company Gemalto.
We're constantly fascinated by the latest technology, and Estonia, perhaps more than any other country in the world, has fully embraced the possibilities that digital connectivity offers. Wifi seems to be available everywhere and the coffee shops are full of people tapping away on their laptops, while digital start-ups abound – most famously Skype, which was bought by Microsoft in 2011 for US$8.5 billion. In the recent parliamentary elections, over a third of the votes were cast electronically.
This dedication to all things digital is down to the country's president Toomas Hendrik Ilves, who rechristened Estonia "e-Estonia" and sees technology as the key to this small country punching above its weight.
Our team were suitably impressed by Tallinn's combination of ancient and modern. "It's a beautiful place," says Peggy, who has just about thawed out after spending three days filming in temperatures of -8°C. "The Old Town is full of wonderful ancient buildings. We arrived on Sunday night and spent some time exploring and getting our bearings, then filmed some vox pop interviews at tech start-ups based in Tallinn's equivalent of London's Silicon Roundabout."
The main purpose of their visit was to film an interview with Anna Piperal, Marketing Manager at the cyber-security firm Guardtime, who also acts as representative and ambassador for the e-Estonia brand. "She was extremely easy to talk to, pleasant and friendly," says Peggy. "In fact, all the people we met were eager to chat to us, fired up and enthusiastic."
The footage she filmed, along with Johanna's photographs and copy written by a local journalist who doubled as the team's guide, will form the basis of an exciting online project celebrating Estonia's status as a pioneering digital nation. Watch this space…
Stay ahead of the curve
Sign up to our emails