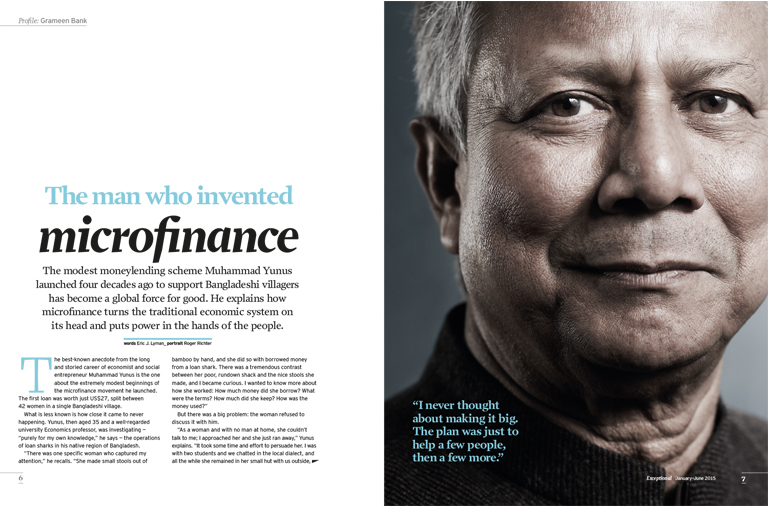 One of the joys of working on the editorial team is that each project calls on a different combination of journalistic skills. With some briefs, the editor's role mainly involves copy-editing; with others, they're also the lead writer and interviewer.
Exceptional, which we produce for EY, is an interview-led print magazine, but here the editor's job – my job – is heavily weighted towards commissioning. The magazine tells the inspirational stories of entrepreneurs from the EMEIA region – Europe, the Middle East, India and Africa – and each edition includes around 10 feature-length profiles that require the kind of in-depth insight a journalist can't get from a phone interview. So, when EY decide who they want to feature, my task is to find an experienced local (but English-speaking) journalist to conduct each interview and write it up.
In theory, that shouldn't be too hard. We've worked on numerous international projects over the years, and if I need to find a journalist in Munich, Mumbai or Moscow, I can easily do so. However, entrepreneurs of the calibre we feature tend to have busy and fluid diaries, which means that interview times and locations are liable to change, often at short notice. The latest edition proved particularly testing.
As it happens, Moscow was one of the chosen locations, and that was sorted out easily enough. Belgrade was more of a challenge, but I contacted the FT's correspondent there, who was happy to take on the job as long it didn't clash with his appointment to interview the Serbian Prime Minister.
Then there was Khartoum. You may not be surprised to hear that I don't have a wealth of contacts in the Sudanese capital. Then we learned that the subject was travelling to Dubai and could be interviewed there; much easier.
The hardest interview to arrange was actually in Italy. Looking for someone to do an interview in Trieste, I found a great writer who was happy to travel there from Milan. Then the interview was moved to Milan itself – even better. Then it was moved again, to Rome, on a day when the journalist was unavailable. After taking a deep breath and counting to ten, I went back to my Rolodex and commissioned a writer I know well, and who lives in Rome. To cut a long story short, we ended up with a captivating interview.
Indeed, the reward for all the phone calls and emails involved in the commissioning process was a host of fascinating stories. I've learned how the nations of Eastern Europe (which were still hidden behind the Iron Curtain when I was growing up) are now producing hordes of exciting tech start-ups; how much science goes into producing the perfect cup of espresso; how you go about building a modern food company in a vast country like Sudan that has rudimentary infrastructure; how the global phenomenon of microfinance started in a small village in Bangladesh in 1976; and much more besides.
Oh, and in the interests of balance, I should add that one interview involved walking round the corner from the office and along the Strand to meet a theatrical impresario. Occasionally, great stories can be found close to home.
Stay ahead of the curve
Sign up to our emails