< Our insights
Brewin Dolphin is named best on the web
Published Apr 30, 2015 – By Andrew Strange, Content Director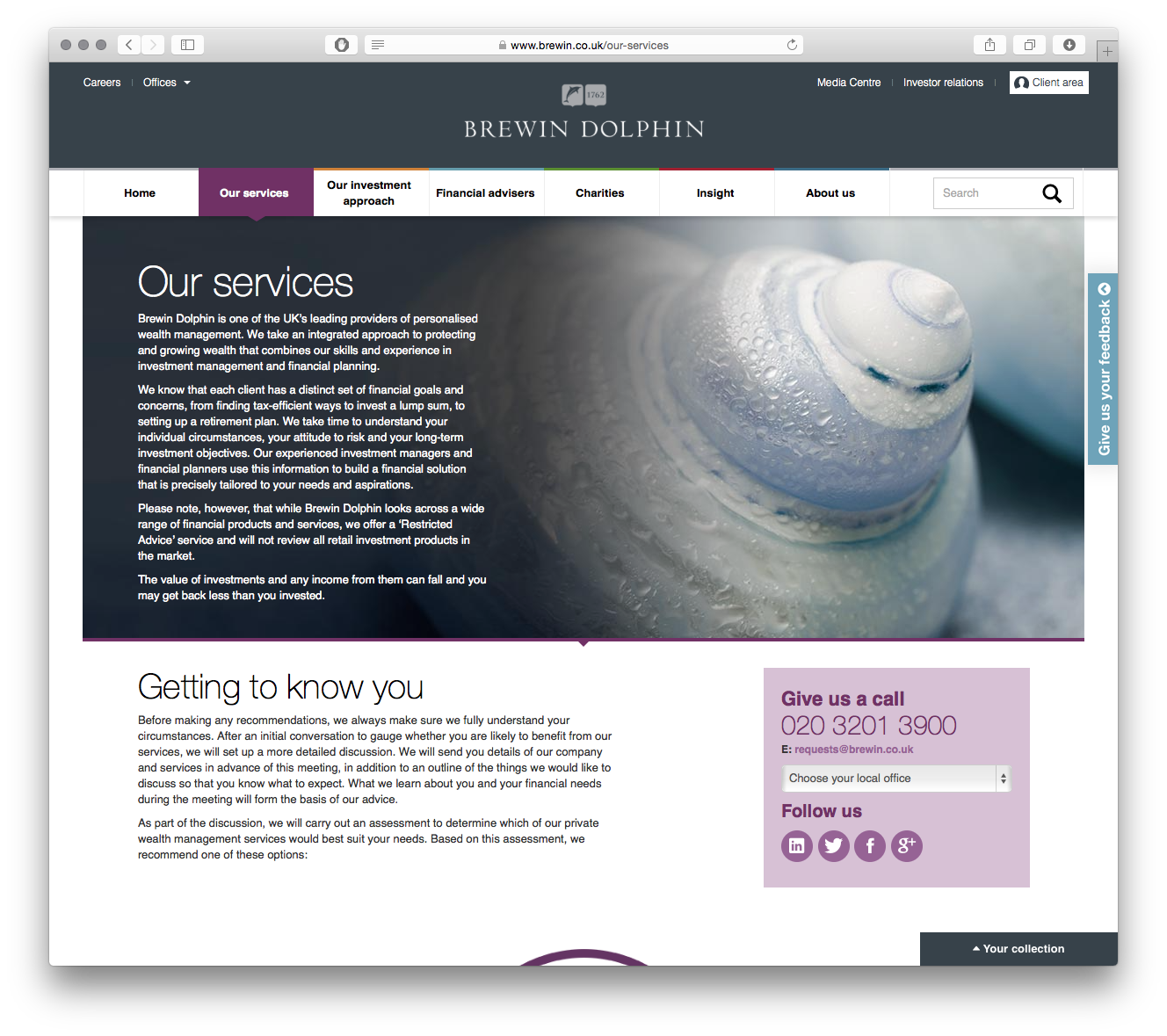 We're delighted to see that one of our clients has been recognised for the quality of its digital communications a year after we helped the firm to launch its new investor website.
Integrated brand and communications company Living Group studied the web presence of FTAdviser's Top 100 Financial Advisers and the resulting list of the best performers put Brewin in the top position.
The report said: "Brewin Dolphin offers a terrific suite of digital communications that places the user, and the client, at the heart of the experience. From the nav bar (where "About Us" comes last), to the homepage headline, ("How we can make a difference to your money"), to its responsive web design, everything about Brewin's website is steered by client-centricity."
Wardour has been working on digital projects with Brewin Dolphin since 2010, and developed the new website, which was launched early last year.
It was a complex project that involved the complete spectrum of creative and technical skills, from editing, bespoke photography and illustration to web development and secure hosting. And we continue to work with the Brewin Dolphin team to develop regular content that is updated weekly and provides important fodder for its social media campaign.
The Living Group report goes on to say: "Brewin's website design demonstrates a command of digital real-estate that's all too rare in the FA sector; live social media feeds, thought leadership features, services, quick links and industry awards dovetail perfectly to create a sense of the firm's strengths that is much stronger than the sum of the individual parts."
To see the site in all its glory, visit www.brewin.co.uk
Stay ahead of the curve
Sign up to our emails