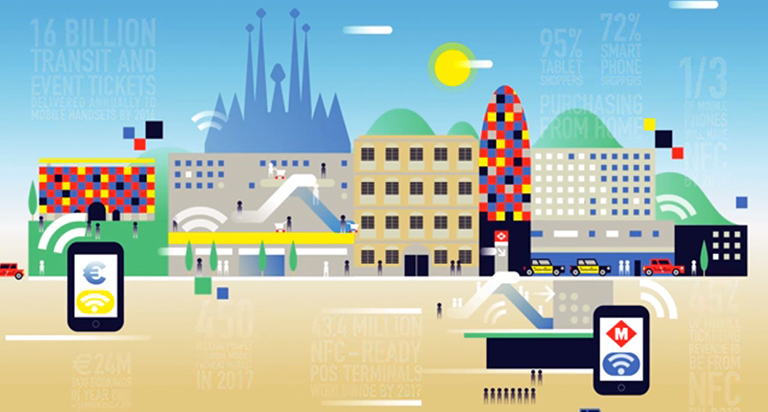 ​The latest issue of The Review, the award-winning, thrice-yearly magazine we produce for digital security specialist Gemalto (along with its online companion, /review) was timed to coincide with the Mobile World Congress (MWC), the biggest event in the world of mobile communications and a showpiece for Gemalto's solutions.
As such we needed a creative idea that would really stand out and celebrate Gemalto's role in the mobile payments revolution. We decided to create an infographic that would show, at a glance, the impact mobile commerce is having on our world (and, by implication, Gemalto's role in helping to make that commerce secure).
The front cover of The Review folds out into an eye-catching illustration of a modern city, dotted with statistics that convey the scale of the mobile payments revolution. Since the MWC takes place in Barcelona, we asked illustrator Alberto Antoniazzi to make our stylised city resemble the Catalan capital, so he included a football stadium decked out in Barça's colours and the outline of Gaudi's fantastical cathedral.
Inside the foldout, there's more information on some of the key statistics from the infographic, explaining how mobile payment services can make life easier, whether you're at home or out and about. We also animated the digital version to bring the illustration and statistics to life in a lively, easily digestible format.
Gemalto liked the infographic so much that they asked us reproduce it, suitably adapted, as a poster that they could hand out to MWC attendees. It is now being sent to Gemalto offices around the world for framing and displaying in prominent positions, and those that have TV screens in reception will also be able to show the animated version.
The multiple forms our mobile commerce infographic has taken illustrates another trend in content marketing, epitomised by the acronym COPE – 'create once, publish everywhere'. After all, when you've got a good idea, you'd be daft not to make the most of it.
Stay ahead of the curve
Sign up to our emails