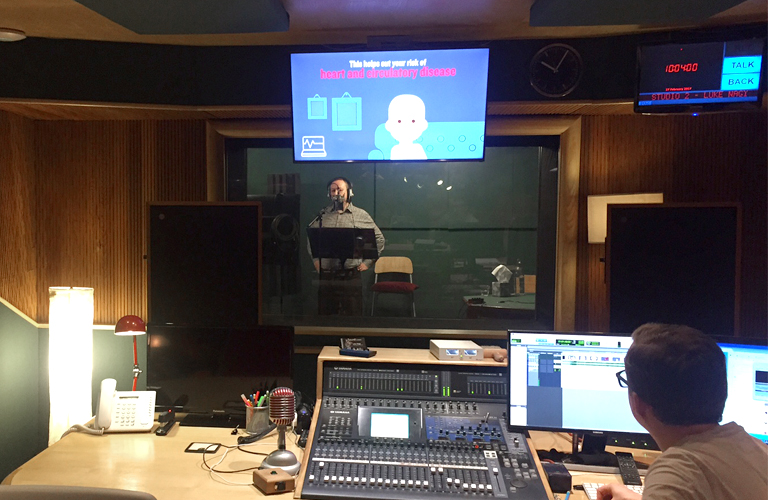 Monday
The week begins, not in the office, but in a recording studio just around the corner from the BBC. Over the years I've developed a sideline in recording voiceovers for videos, and today I've been asked to narrate a short animation for the British Heart Foundation on the health benefits of exercise. The client has come to the session, and hearing the script read aloud helps her to spot a few passages that don't quite sound right. Between us, we work out changes to the wording and then I record both the old and new versions, to be on the safe side. There's still time in our allotted hour for the studio engineer to tidy up the audio file before I head to the office. After two days off last week, I've got a lot of emails to catch up on.
Tuesday
Another early start, this time at a BIMA Breakfast Briefing. The four speakers provide their perspective on the theme of 'Incubating Innovation', and it makes for a fascinating session. The key takeaway, for me, is the need for innovation to be embedded in the culture of a creative agency. As one speaker put it, if you've got an innovation team working on their own, you're never going to produce anything worthwhile. No one is pretending any of this is easy. In particular, Nadya Powell of Innovation Disorder talks passionately about the need to dismantle many of the traditional assumptions around how companies are organised and staff are managed and rewarded. I leave with my head buzzing with snappy phrases: 'Build innovation from the inside out', 'Define your version of innovation', and above all, 'Start by starting'.
Wednesday
A day in the office, and a challenge. Last week, we spent a day at a client's offices filming video interviews with six of their experts, and my task today is to go through the transcripts and construct three or four videos, each on a different theme, ensuring that all the interviewees are represented equally. It's like a cross between a logic puzzle and three-dimensional chess, but after a few hours with furrowed brow and highlighter pen, I deliver four workable cutting scripts to the video editor.
Thursday
It's a busy time of year for video shoots, and this morning I meet the film crew at the Boisdale of Mayfair restaurant, where we're due to interview proprietor Ranald Macdonald. We spend the morning filming B-roll (the general footage video editors use to add visual interest to talking-head interviews) in the kitchen and the restaurant itself, then set up the cameras and lights and wait for the main man to arrive. And wait. And wait. It transpires that Ranald's assistant has put the interview in his diary for Friday by mistake. As it happens, he isn't too far away and promises to jump in a cab. Even so, we're nearly an hour late starting the interview and the lunch service is getting ever busier. Fortunately, Ranald is an assured speaker and I get lucid answers to all my questions, with no need for retakes. He heads off to his next appointment and we disassemble the kit in record time to let the restaurant get on with serving food.
Friday
With only one short meeting scheduled, this is a day for catching up with all the many and varied tasks of a Content Director. These include uploading an article to an online content portal, taking in amends on layouts for my own projects, proofing articles for colleagues, checking printer proofs and assorted admin tasks. I manage to get through most (if not all) of my to-do list for the week, before writing out my list for the next week. I'd be lost without a list.
Stay ahead of the curve
Sign up to our emails