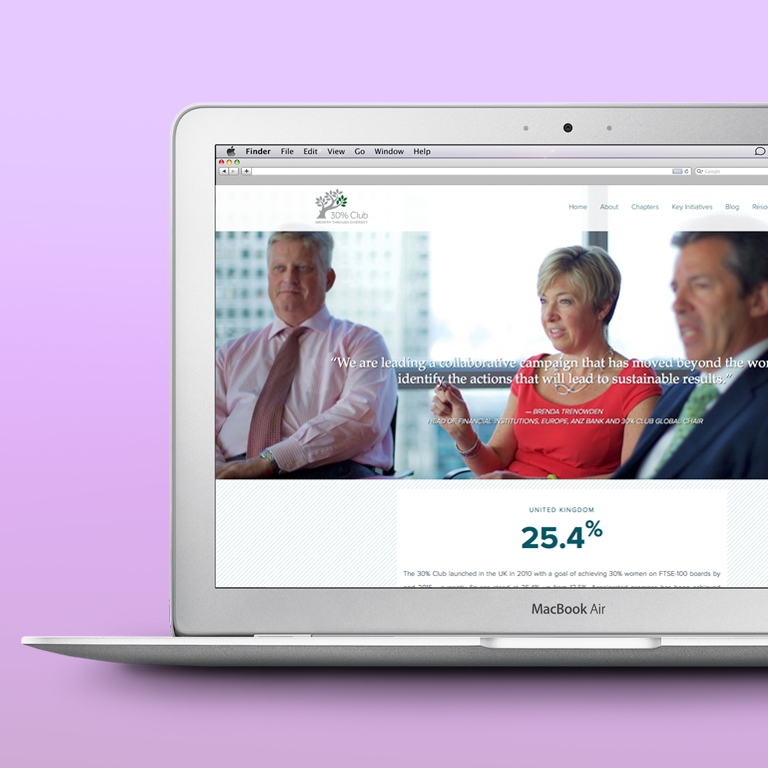 Making something look effortlessly simple is never easy. Particularly when that something needs to support a company in its mission to rectify gender inequality in business – as we discovered when we were asked to transform the 30% Club's website into a responsive and accessible online platform.
The 30% Club was launched in 2010 with a mission to achieve 30% women on FTSE 100 boards by the end of this year. It has enlisted the help of a team of senior business leaders, male and female, who act as advocates for gender balance at all levels of business.
We began work on the campaign's website relaunch in January, having successfully helped the client create Women for Media UK, a directory that connects journalists to female leaders in the business, finance, government and not-for-profit sectors. Having jumped at the chance to help journalists increase female visibility within the media and beyond, we were delighted to be invited to work with the 30% Club on another project.
But while we couldn't wait to start on this new digital job, the redesign was not without its challenges. The 30% Club is not-for-profit, so we needed to create something that surpassed the client's expectations without exceeding its budget. Thankfully, we came to an agreement with Bloomberg (one of the 30% Club's main supporters): its team would design the website if we built it. Collaboration made perfect sense to us. What better way to share the 30% Club's collaborative, concerted, business-led efforts than by embracing the very same values? So we set to work.
Collaborating with the New York-headquartered company required strong project management and ongoing communication – despite the five-hour time difference. Having regular conversations with our clients, showing them design work and talking them through the website's various functionality options also helped to ensure that all parties were on the same page throughout the process.
The result is a slick, user-friendly and visually appealing website that ticks all the boxes. In the process, we've also fostered some great working relationships. There's a lot to be said for collaboration…
Stay ahead of the curve
Sign up to our emails