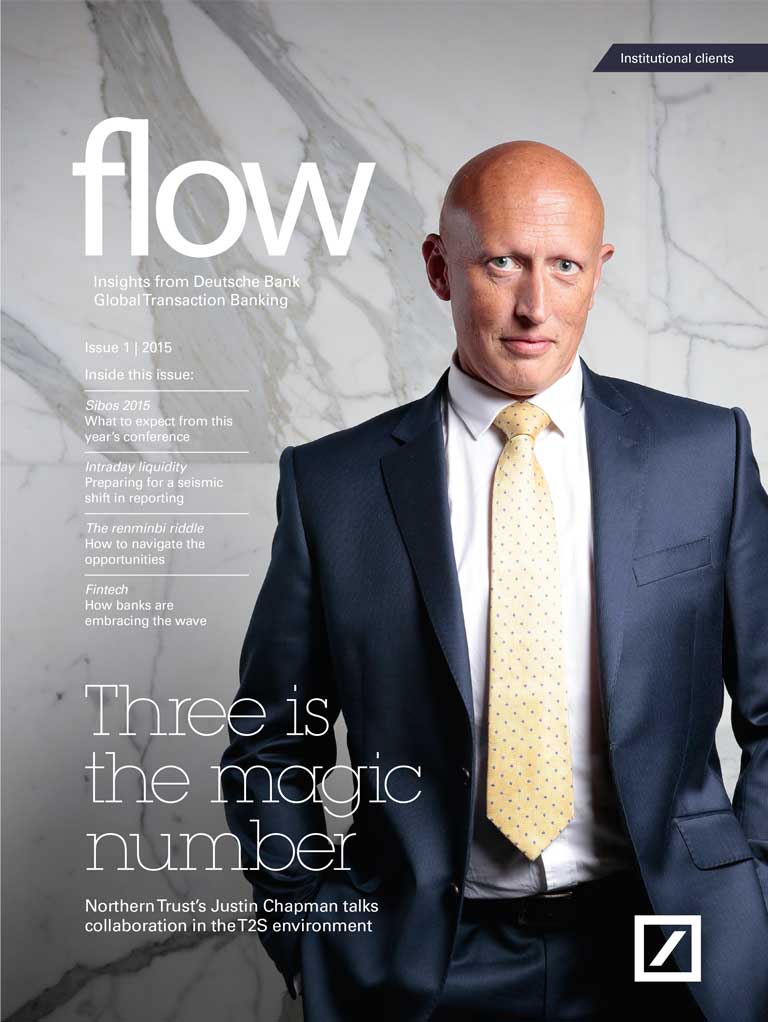 How do you go about creating a magazine and content hub for an organisation so large that its clients span not only world geographies but also distinct business sectors, with distinct interests? That was the challenge set by the Global Transaction Banking department of one of Europe's largest financial institutions, Deutsche Bank. And Wardour… well, we grabbed the opportunity with arms and ears wide open.
Some months after our first visit to Deutsche Bank's impressive City dwellings, two sleek magazines named flow, with segmented content to meet these unique requirements, now adorn the foyers of the bank's regional HQs and those of their clients around the world. No less than the Corporate Treasurer of global transportation firm Bombardier and Global Head of Process Management at one of the world's largest investment managers, Northern Trust, stand proudly on their covers.
And that is invaluable. In this age of online, the benefits of the print magazine – an important brand calling card – can be overlooked. The attention-grabbing magazine that casually sits on a client's coffee table during meetings, or gets inadvertently left behind in a business airport lounge ready for the next reader – a potential client, perhaps – is a subtle but effective reminder of your brand and your expertise. When that calling card is not just style-drenched, but crammed with insightful and original thought leadership from some of financial services' best thinkers, the package becomes all the more powerful.
It's now that Deutsche Bank's online offering – a stream of written content, videos and infographics – becomes so vital. It will breathe continued vibrant life into the flow concept, while the printing presses lie fallow for another few months.
Many have said that print is dead, and that is simply not true. But digital content can help to remind customers that your company is always there, always relevant, always able. That's why we call our digital programmes 'always on', and though it isn't always easy to create and curate compelling, focused material for a highly technical and niche sector, flow is proof that Wardour is pretty good at it.
Stay ahead of the curve
Sign up to our emails