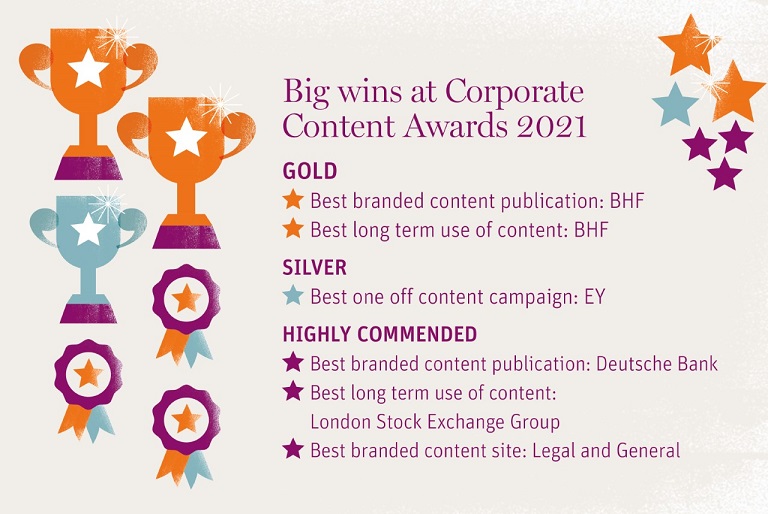 Awards ceremonies probably don't rank highly on most people's lists of signs that life is returning to normal following the pandemic, but nevertheless it was a pleasure to attend the Corporate Content Awards last night. Apart from the novelty of travelling to the City (the ceremony took place in a hotel near St Paul's), it was nice to have an excuse to wear a suit, a smart shirt and shiny shoes after 15 months spent almost entirely in T-shirts, jeans and trainers.
Of course, some things had changed since last year's Corporate Content Awards, held in February – the last pre-pandemic awards ceremony. Tables of 10 had become tables of five to enable social distancing, for one thing. For another, going up to the stage to collect an award meant donning your face mask, picking up the award from a table (avoiding any physical contact with the host), taking off the mask for the obligatory celebratory photos, then putting it back on again for the walk back to your table.
I was lucky enough to go through this routine twice, collecting gold awards for our work with the British Heart Foundation on the Heart Matters programme in the Best branded content publication and Best long-term use of content categories. In their citation, the judges referred to "great content and poignant testimonials".
Heart Matters Magazine - British Heart Foundation
We also won silver for a project close to my heart, the EY NextWave Insurance campaign, in the Best one-off content campaign category, as well as highly commended awards for Deutsche Bank's flow magazine (Best branded content publication), the London Stock Exchange 1000 Companies to Inspire Britain books (Best long-term use of content) and the Legal & General Inclusive Capitalism hub (Best branded content site) – not a bad haul, all told.
NextWave Insurance - EY
1000 Companies to Inspire Britain - London Stock Exchange Group
Inclusive Capitalism - Legal & General
This particular ceremony had been delayed by several months due to circumstances beyond the organisers' control; we actually entered in October, so some of the work the judges had been so impressed by felt almost historic. As I walked back to Waterloo with my bag of swag slung over my shoulder, I reflected that it'll be exciting to get a chance to enter the work we're doing now in the next round of awards. Not that we're solely in it for the glory, of course – but if we're being recognised by our peers for exceptional creative work that effectively meets our clients' goals, we can't be going too far wrong.
To learn more about how Wardour can help with your next campaign, pop us an email at hello@wardour.co.uk – we'd love to have a chat with you.
Stay ahead of the curve
Sign up to our emails