< Our insights
Why IC should stand for Innovation and Creativity
Published Aug 07, 2020 – By Tim Turner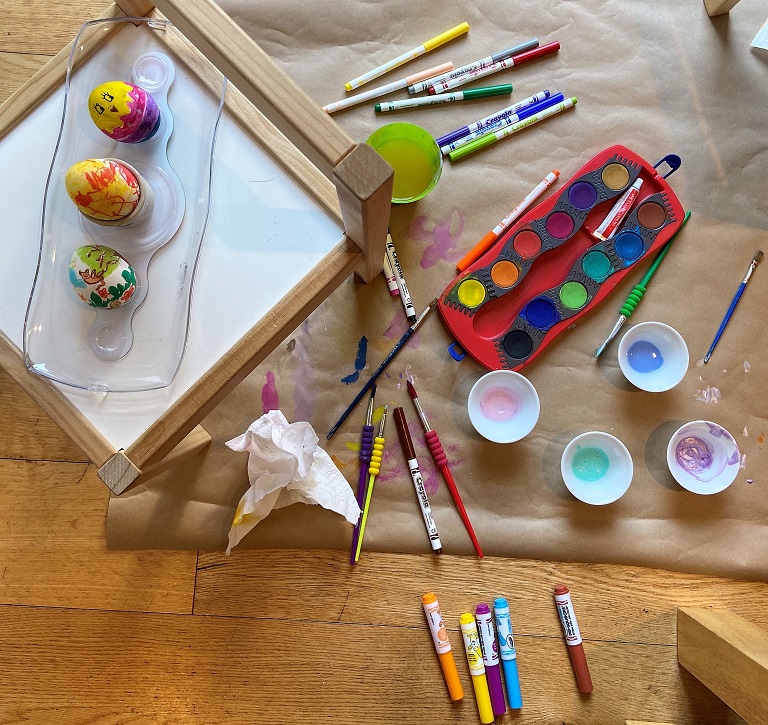 You could look at creating content for an internal audience as a daunting challenge, with the results liable to be met with a long-suffering sigh and a reaction along the lines of "Now what do they want us to do?" Or you could see it as an opportunity to flex your creative muscles and produce content that surprises, delights and really does get discussed around an actual watercooler (social distancing measures permitting, of course).
That's certainly how the best internal campaigns come into being. Here at Wardour, we've produced a lot of internal content over the past few years: these are four of my favourite examples of creativity and innovation in action.
A creative challenge
When British Airways wanted to raise awareness of the new A380 airliner, we were keen to make the campaign fun. What do people really enjoy doing? Colouring things in, obviously, so we created 'Pimp my A380', a game (hosted and promoted on the BA intranet) that asked staff to design their own aircraft livery. A simple online interface allowed them to decorate the exterior and interior of the A380 with a variety of icons; they could then use a digital paintbox to colour in the exterior before uploading their entry.
The game had a competitive element, with tickets on an A380 flight simulator up for grabs, and the winning entries depicted the plane as a London skyline, a swimming pool and a killer whale! The competition, which was open to 38,000 BA staff, had more than 10,000 entries – but feedback indicated that, although the prize was highly valued, staff simply had great fun coming up with their ideas.
Bringing colleagues together
It's not often you get to act as a matchmaker in this line of work, but that's what we did for an issue of Barclays' internal ezine, My Globe.
All our content needed to link back to the bank's #trulyconnectedfinance strategy, and with Valentine's Day approaching, we decided to focus on the 'connected' part of that message and show how staff could learn from colleagues they'd never met before.
Inspired by the popular Channel 4 TV show, we created a 'First Dates' setting at Barclays' HQ in London, took four people from different areas of the bank and brought them together in pairs to discuss their roles and ways they could work together. Much as on the show, we then found out more about what they'd learned from each other and whether they'd like to 'see each other again'.
We filmed the two 'dates', and the story was the cover feature in the ezine. We also created a supporting campaign that encouraged staff members to send a downloadable image of a blue rose (a nod to the bank's corporate colour) to a colleague they wanted to connect with.
That issue of My Globe was one of the most viewed ever and the First Dates feature accounted for more than half of all the page views. Staff really bought into the concept, too, sending in feedback such as: "This is a lovely idea, what a pleasant way to get connected. Who doesn't love getting a flower? I'll be sending a few today."
More than a magazine
Renewi is a multinational waste-to-product company. It has six core values that include being innovative, so finding new ways to share information in their internal communications is vital. While a printed quarterly magazine doesn't sound like the most groundbreaking approach, finding new ways to use the medium have made it an award-winning campaign.
For example, the first full issue of Renews had a perforated cover to allow readers to open their brand new employee magazine like a gift. On the reverse of this we included a ready-to-cut-out superhero mask that staff could used in a photo competition for the next issue.
In an issue focusing on the company's Safety value, we created a Where's Wally-style poster of a site, challenging readers to spot safety issues. And an edition focusing on the company's Sustainable value included a piece of paper embedded with wild flower seeds for employees to plant at home, making the world a little greener. These creative ideas helped to reinforce Renewi's values and made Renews something truly memorable.
The power of stories
Finally, sometimes, you just need to tell a story. Which is how a life-sized door opening onto a pink room came to appear on a corridor wall in the offices of a property company.
Grosvenor had developed a new set of business principles designed to encourage good customer service and client integrity and asked us to promote these new principles to their staff. Our only instruction was that the campaign should have more impact than a simple email communication.
So we created a highly visual programme that led to provocative statements aligned to the new principles appearing throughout the Grosvenor offices. These included large vinyl images linked to stories about the company – and that's where the door came in. One of Grosvenor's tenants was an elderly woman who was disorientated by the process of moving to a new flat. So Grosvenor painted her new home entirely in pink to mirror her old one – a wonderfully empathetic gesture and a perfect example of good customer service in action.
To learn more about how Wardour can help with your next campaign, pop us an email at hello@wardour.co.uk – we'd love to have a chat with you.
Stay ahead of the curve
Sign up to our emails