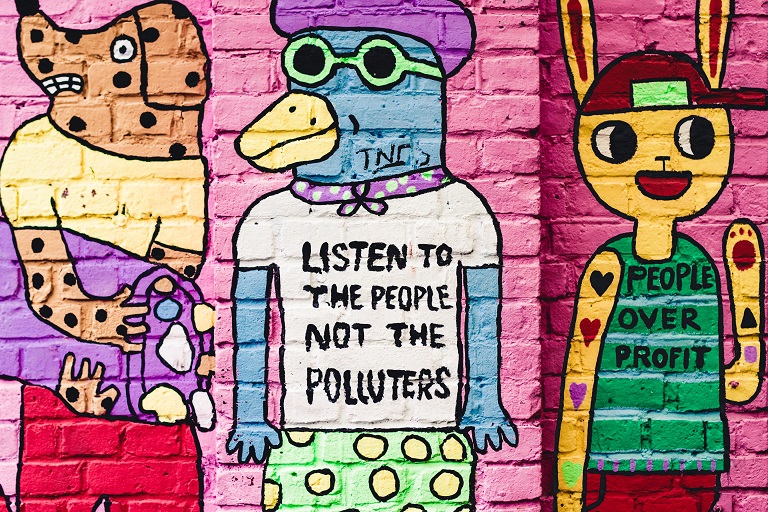 What's the purpose of purpose? Social purpose – and whether you have one – is the biggest topic business is facing in 2021. It goes to the heart of what every business stands for and how it operates, the partners it works with, the people who want to work with and for it.
Oliver Dudok van Heel, head of client sustainability and environment at global law firm Freshfields Bruckhaus Deringer, believes it is also interlinked with financial success. "All the companies that have lasted decades have created an identity for themselves that goes beyond profit," he explains.
Dudok van Heel was part of the panel for Wardour's latest webinar discussion – 'Why marketers need to get real on social purpose'. He was joined by Helen Anderson, global head of marketing and communications at The Chartered Institute for Securities & Investment (CISI), and Michelle James, group head of marketing and communications at Renewi.
Although the panellists come from different sectors, they all agree that, in 2021, social purpose is essential in marketing any organisation. To do it well, the messaging has to be authentic. "You have to live it," says Anderson. "If you are putting out statements about Black Lives Matter or diversity, for example, and your board doesn't reflect that, then consumers will see through it."
As the leading professional body for securities, investment, wealth and financial planning professionals, the CISI encompasses some of the most well-known names in finance, and Anderson is increasingly seeing these firms embed a strong social purpose. It is a trend that is repeated across business.
The waste-to-product company Renewi has transformed over the past few years into a leader in the circular economy. In that time the organisation has fully committed to its social purpose, which helps deliver authentic messaging. "The consumer won't fully trust or support us unless the employees are advocates," explains James.
Of course, social purpose comes in many guises, and one of the challenges for businesses and, in turn, their marketing teams, is what to focus on. A poll for the webinar found that 71% of comms and marketing leads considered diversity and inclusion the most important social purpose agenda point; 64% said it was climate change; and 61% said it was sustainable business practices.
"There are many missing in the poll list," says Anderson. "Social purpose includes other things such as mental health, social mobility and accessibility. For every organisation to have some form of strategy on each is a considerable resource. Do you have to live them all?"
Dudok van Heel advises companies on their social purpose and agrees it is impossible to concentrate on the full spectrum. Instead, he says businesses have to focus on those that are key. "What are the issues that are impacted by your business or that you can impact as a business?" he asks. "What are the issues that help drive a business? There is no point acting on something you have no impact on."
For him, it is about concentrating on relevant areas that support the wider goals of the business – including financial goals.
As more businesses get on top of their social purpose agenda, the need for marketing and messaging will increase. Some 67% of those polled at the Wardour webinar agreed that the mood music at their businesses is that the spend on social purpose marketing will be higher this year. "It is no longer a side activity – now it is strategic," says Dudok van Heel.
There is growing recognition that businesses that want to attract consumers and employees have to focus on their social purpose. And Dudok van Heel believes businesses should now be looking at transformational change, rather than incremental change around individual areas such as putting in place a diversity and inclusion policy. "The scale of change required is far greater," he says. It is about having the boldness of ambition: "Make change and make a profit."
To learn more about how Wardour can help with your next campaign, pop us an email at hello@wardour.co.uk – we'd love to have a chat with you.
Stay ahead of the curve
Sign up to our emails