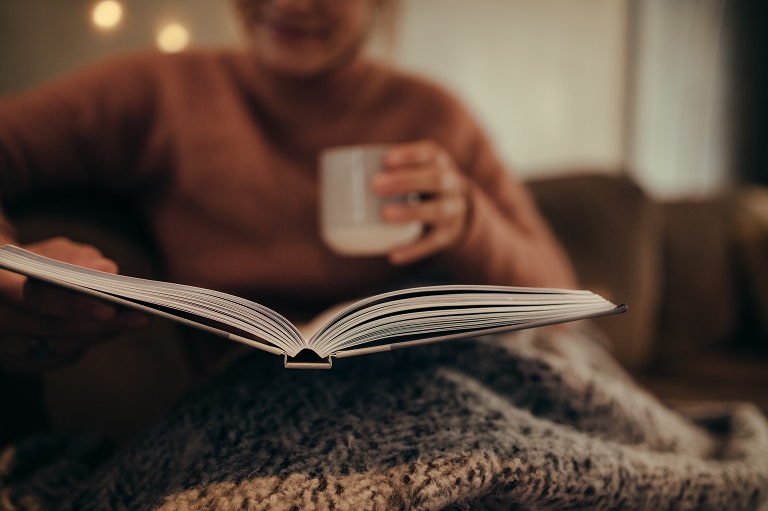 Allow me to say 'hello'. I'm Sophia, one of the account team at Wardour. With no chance to go out, I've turned back to my bookshelves for company. And that made me want to know what my colleagues are reaching for to help get through this coronavirus lockdown.
Feelings of isolation
For some of the team it's clear that themes of isolation are resonating in ways that they had not previously appreciated.
Charlotte, one of our Senior Account Directors, lives near HM Prison Wandsworth but had never given much thought to what goes on behind the walls before reading A Bit of a Stretch by Chris Atkins. The author talks about the importance of family visits and spending time out of the cells for the mental wellbeing of the prisoners. How this chimes with all our lives today. In fact, it so stirred Charlotte that she used her daily exercise to donate a bag of books to the prison which would normally receive donations from charity shops that are now shut.
Jane from our editorial team is reading about a Greek Goddess who was banished to a remote island in Circe by Madeline Miller. Circe's isolation feels especially relevant to our lives right now and although she was spurned by her family and sent away, this becomes the making of her. The novel's hopeful ending is a salve for these turbulent times.
Comfort in old classics
From childhood favourites to timeless classics, the team at Wardour has an urge to revisit books: there's a sense of safety in the familiar as well as a chance to uncover new meanings.
For instance, Editor Sophie is rereading Dodie Smith's wonderful coming-of-age novel I Capture the Castle. It was written during WW2 when Smith was living in California and tormented by homesickness for England and the life that she had left behind there. She has also just finished Miss Pettigrew Lives for a Day by Winifred Watson. First published in 1938, the narrative is strangely apt in the way that it evokes a world about to change beyond recognition.
Another Wardour Editor is also enjoying rereading old favourites where she ultimately knows the problem will be solved. To satisfy a craving for detective stories she is currently re-reading Lethal White by Robert Galbraith (aka JK Rowling). She also recently dipped back into Dracula – however scary, she knows the heroes will prevail!
Daniel from the Account Team is rereading His Dark Materials by Phillip Pullman. After seeing the recent BBC television adaptation, it reminded him of how much he loved the books – it has been 20 years since he last read them. He's also reaching further back in history and reading about the transmission of ideas and knowledge during the Roman empire in The Map of Knowledge by Violet Moller.
A time to
reflect
A couple of us at Wardour are using this time as an opportunity to read things that have sat unloved on our shelves or will offer us moments of self-reflection.
Lulu from Editorial is working through the leftover books on her shelves that she didn't get a chance to read during her English degree and is currently reading Beloved by Toni Morrison. She is falling in love with American Modern Classics all over again and is pleased to find that she is not as lazy as she used to be!
Or again, after getting into mindfulness podcasts and replacing her relaxing swimming hobby with meditation, our Account Director George is reading The Power of Now by Eckhart Tolle. In the current climate, the notion of "all we have is now" feels very much aligned. This helps her find enjoyment in the simple things; as she is usually always thinking and planning ahead, she can forget to take the time to really be 'present'. She has also been inspired to keep a gratitude journal.
And what about me? Well, my aim was to enjoy reading a long novel that I could get lost in. I headed into lockdown with two thick books that over the years have become dusty ornaments on shelves for houseplants: A Little Life by Hanya Yanagihara and Purity by Jonathan Franzen. After several friends warned me that the former was the saddest book they had ever read ("Why did the author have to hit us with that?!"), I switched to Franzen: you can rely on him to mock society in dry and witty ways.
Learning about what the Wardour team is reading has shown that rather than seeking pure escapism we are finding insight everywhere. More importantly, around our day jobs, we suddenly have a lot more spare time, and we appreciate how precious it is.
Stay ahead of the curve
Sign up to our emails