< Our insights
Start as you mean to go on
Published Mar 09, 2015 – By Claire Oldfield, Managing Director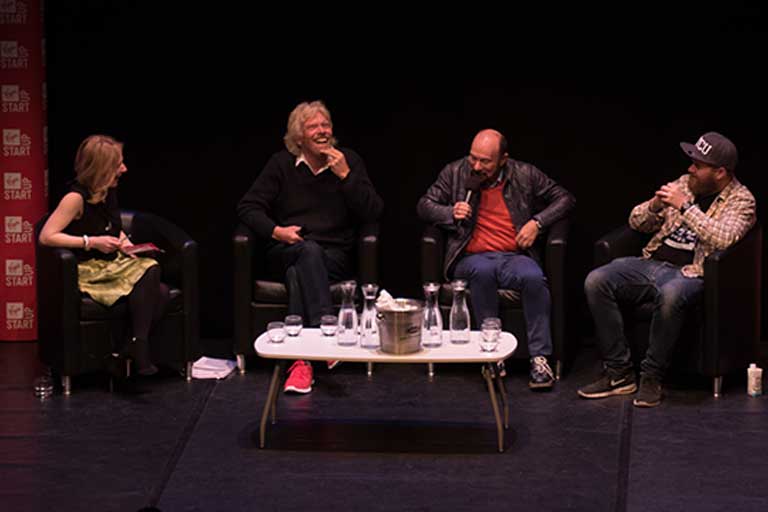 Last week, I chaired an event for Virgin Start Up (VSU) – the bit of Virgin that encourages the next generation of entrepreneurs through seed funding and mentoring. It's been an extraordinarily successful outfit since launching in 2013.
And hundreds turned up for the event in Newcastle, lured by the chance to get business insights from those who have backed entrepreneurs, as well as those who have already taken the plunge into business.
Of course, the big draws were Sir Richard Branson and Stagecoach founder Sir Brian Souter; two of the most successful and interesting entrepreneurs the UK has produced. They were joined by Jimmy Cregan, the founder of Jimmy's Iced Coffee. He is backed by VSU and is clearly a future business tycoon. He's charismatic, fun, engaging and – less than five years into business – already successful, with his products stocked in leading supermarkets.
The VSU event was a good reminder that an entrepreneurial spirit, and the passion that goes with it, can win over people and create entirely new brands and market segments. During the 1990s, I was lucky enough to be the Sunday Times' Small Business Editor. It was a brilliant period when I got to seek out and interview the men and women who were shaping and changing the economy with ideas and products that helped make their own fortunes in the process.
Today, I am still lucky in work – now on the other side of the fence as a partner in an entrepreneurial business where editorial values are high and, through these, we can help shape the communication and marketing vision for brands.
Here – in no particular order of importance – are some of the nuggets of wisdom Branson and Souter delivered to those wanting to be successful entrepreneurs:
Keep fit
The dynamics of a business are about people
It helps if you are a bit crazy…
…and a bit obsessive
To be a good leader, you have to be a good listener
And I thought it was also worth sharing some of the other pieces of wisdom I gathered from hundreds of interviews with entrepreneurs which I unearthed during research ahead of the VSU event:
Do something you love, because it makes you want to get up in the morning
Doing something for yourself gives you choices in terms of work-style and lifestyle – at Wardour we choose to work with brands we like and respect…
… and we get to choose our colleagues
When you don't want to get out of bed in the morning and rush to work, either your work is done, or it's time for a change. Either way, it's time for a change – and that change lies in your own hands.
Stay ahead of the curve
Sign up to our emails