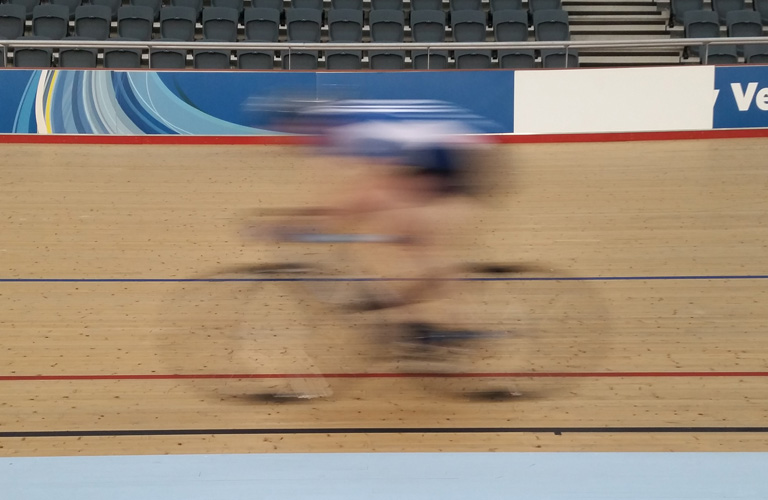 Sometimes, work can drive you up the wall. It's not often though, that it's literally the case.
On a frigid Friday morning, Finance Director Richard Payn and I found ourselves in the East End, staring up at the 'Pringle', otherwise known as the Lee Valley VeloPark. It is, some say, the fastest cycling track on earth. If you have never been into an Olympic venue, it is a thrilling experience – it's not often that you get to see a place where records are made and legends are forged. But this day, severely wind-chilled and facing the prospect of looping around the 250m, banked Siberian Pine track (on a fixed-wheel, brakeless racing bike), it's fair to say that my excitement was tempered.
Client work sometimes demands that you go above and beyond the norm. There is no such thing as standard working hours. No job is too difficult, obscure or obtuse. You want me to dress up as the corporate mascot for a day with some schoolchildren? Sir, I would be delighted.
It's great, then, when client work offers you the opportunity to do something enviable. Hays, the global recruitment firm, is one of our largest relationships; we have produced award-winning print and digital media together for more than three years. On the Friday in question, Hays treated clients and colleagues to a fantastic day at the velodrome, raising money for the Brain Cancer Trust.
We were Lycra-clad and ready for action. The track peaks at 42 degrees, but from the floor it looks nearer 90. For Richard, a competitive club cyclist, it was an easy ride, though for me, who couldn't remember the last time I went to Centre Parcs, the same couldn't be said.
The challenge with track bikes is that you can never stop pedalling: something that was demonstrated beautifully just before my timed lap. The rider crossed the finish line, relaxed and promptly flipped head over heels, exploding his rear tire and concussing himself in the process.
Thankfully Richard and I emerged unscathed, placed first and third in the 250m Wattbike sprint respectively. Richard added another trophy to the Wardour cabinet and I got to ride in an Olympic venue. It's a tough job, but somebody's got to do it.
Stay ahead of the curve
Sign up to our emails