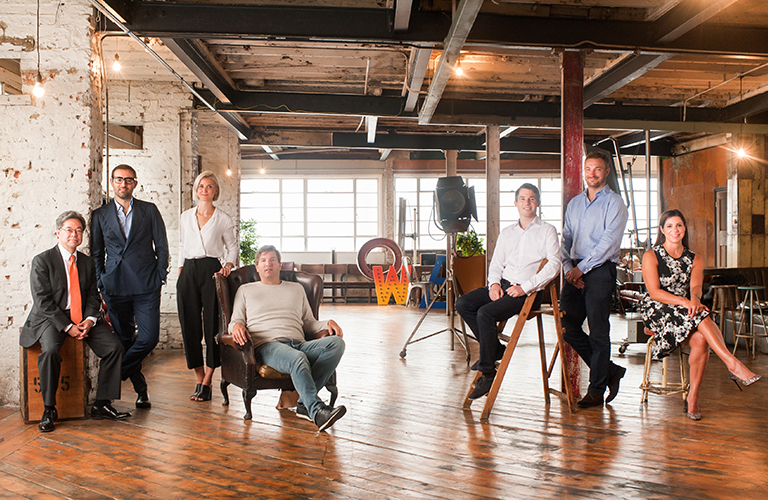 Every October, the British Venture Capital Association (BVCA), one of our longstanding clients, gathers the great and the good of the UK venture capital and private equity industry, and some of the country's top entrepreneurs, for its annual summit.
In the run-up to the BVCA Summit, we dedicate an issue of the BVCA Journal to some of these figures with a special gatefold cover. It includes a photoshoot with around eight industry influencers and a series of interviews.
Unsurprisingly, even with the spectre of the summit looming, attempting to get multiple industry leaders in one room at the same time is usually pretty tricky.
But there is always a way! More often than not it is about coming up with a compelling theme that ensures busy people are keen to have their voice heard. The theme of last year's photoshoot and interviews was 'revolutionaries', with the BVCA keen to promote firms and individuals shaking up the private equity and venture capital industry.
These included Debbie Wosskow, the pioneering entrepreneur and founder of the AllBright venture capital fund, which exclusively backs female entrepreneurs. We persuaded Wosskow to join seven other influencers including Mauro Moretti, founder and managing partner of Three Hills Capital Partners, a development capital firm that backed Byron Burgers, and Anna Hyde, partner and investment manager at early-stage tech fund Bethnal Green Ventures.
Added value
The content package that resulted gave the BVCA an opportunity to showcase some of the industry's big influencers, as well as previewing a lot of the discussion points for the Summit. Indeed, those attending have helped influence the way deals are structured, start-ups are funded, and entrepreneurs are backed, providing dynamism to one of the UK's key financial sectors. For those taking part in the photoshoot, the day is a great opportunity to meet peers, network, and promote themselves and their businesses. On the day, they shared views on the state of the market, and several exchanged business cards. They also seemed to enjoy the chance to get out of the office and have professional photographs taken (one was so pleased with their shots that they asked for copies to show to their wife!). And for us, the feature provides the opportunity to do something a little different for the Journal and find interesting locations for the shoot. In this case, art director Colin Wilson found a stunning former buckle factory in Seven Sisters, North London, to use, which provided a great backdrop for the main shot. Find out more about the BVCA here.
Stay ahead of the curve
Sign up to our emails