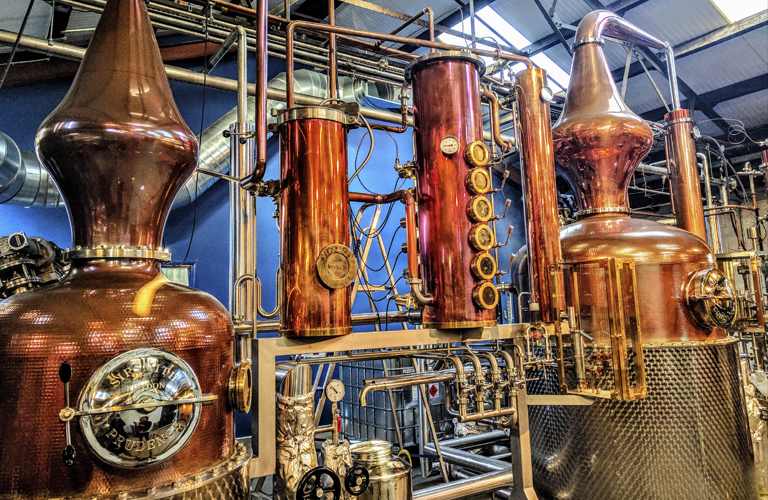 I should preface my article with a disclaimer. It's not very often I have a drink before noon. Perhaps a bucks fizz on Christmas morning, and I had a glass of champagne on the morning of my wedding, accompanied by eggs benedict, but that's it.
With that in mind, a large gin and tonic at 11.50am at the Sipsmith distillery this week was something of a novelty for me. Our host, Joe, sat me and my three colleagues down at the shiny copper bar and prepared four tall glasses of their London gin with Fevertree tonic and lime, motioning us to take an immediate sip while the bubbles fizzed around the top of the glass.
We duly obliged and within a couple of sips, we were all grinning – maybe down to guilt about the early start, but also because this G&T tasted delicious.
We were visiting the distillery through our longstanding relationship with Fuller's, for whom we produce their on-trade wholesale catalogue. The famous Griffin brewery is a five-minute walk from the Sipsmith distillery, with both drinks companies successfully tapping into the zeitgeist for locally crafted and artisan tipples.
By the end of our tasting and introduction to the Sipsmith brand, it became clear how tightly knit the British drinks industry is – everyone knows everyone.
Sipsmith was co-founded by a former Fuller's employee, Sam Galsworthy, and lifelong friend and Diageo man Fairfax Hall. Together they had spotted the exciting trend for craft drinks in the US as well as a gap in the market for crafted, small-batch spirits in the UK. In 2009, they decided to set up on their own and have some fun along the way.
The distillery itself is small – and I mean tiny, in a space just a touch bigger than a London first-time buyer's flat. Just three copper stills, called Patience, Constance and Prudence, produce the spirits all year round, using British grain and botanicals from around the world. Prudence is the first copper pot to be used in London in 189 years and was ironically named in homage to then-Chancellor Gordon Brown, whose prudent policies during the financial crisis were in stark contrast to the financial gamble taken by Sam and Fairfax to chase their gin-making dreams.
What's amazing is that after Sipsmith outgrew their original home in Hammersmith, they moved into one of Fuller, Smith and Turner's old depots, tucked away in a cosy residential street off Chiswick High Road. That old Fuller's connection continues today – Sipsmith and Fuller's want to help each other connect with consumers, pursuing the same goals of creating the finest, hand-crafted, premium drinks in the heart of London and getting them into the hands, and glasses, of consumers. What I find most interesting is that we see the variety and ambition from dozens of drinks creators first hand and by getting to know each supplier, we're best placed to help the likes of Sipsmith and Fuller's achieve those goals.
We also learnt a lot, including the origin of the phrase 'Dutch courage' (Dutch soldiers were given a small bottle of gin to drink before battle) and the history of gin in the UK (from a royal endorsement to a virtual epidemic), as well as the careful processes Sipsmith follow day in, day out, to produce their fantastic spirit. But why the name Sipsmith and the elegant swan branding? It was the first question I had for Joe on our tasting day. He waited to the very end to tell us. I could tell you too, but why not make a visit to Chiswick and uncover the mystery yourself? You'll find out while having some excellent drinks.
Stay ahead of the curve
Sign up to our emails