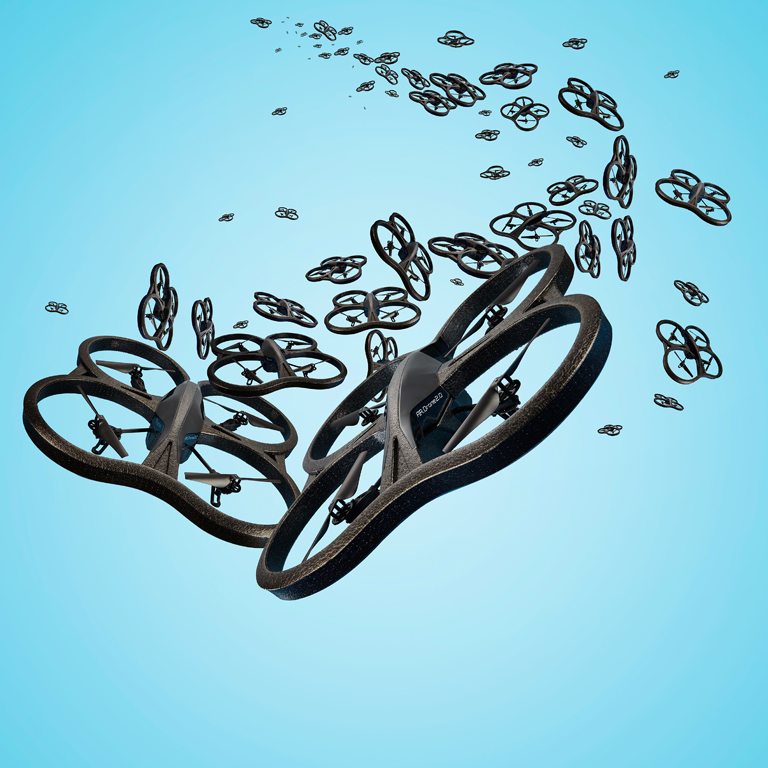 Unmanned aerial vehicles (UAVs) are finding their way into the mainstream. By 2020, it's estimated that there will be around 30,000 drones buzzing overhead, and businesses will need to keep a close eye on developments if they want to stay ahead of the curve.
Last week's BIMA Breakfast Briefing brought together a panel of experts to discuss the benefits (and the dangers) of embracing this emerging tech, and we sent along four Wardourites to learn about the raft of opportunities available to those who dare to drone.
The speakers covered everything from aerial filmmaking to the legalities of using drones for commercial purposes. Back in the office, our team reflected on what they'd learned.
Something everyone agreed on was that flying a drone is not as straightforward as you might think. The rules for operators are confusing, to say the least. In a nutshell, you must request permission from the Civil Aviation Authority (CAA) if you plan to fly a UAV on a commercial basis, or if you intend to operate a camera-fitted drone in an area beyond your control. But with the CAA struggling to cope with a surge in applications for permits, there are lots of grey areas… As Dean, one of our designers, joked: "If you think you have authorisation to fly a drone, you probably don't."
However, as far as we could tell, the drone pros outweigh the cons. Recreationally, there's lots of fun to be had. From selfie-taking to drag racing, the opportunities for digital diversions are endless. Commercially, there seems even more to be gained. In construction, for example, drones are being used to conduct inspections in areas that are too difficult, expensive or dangerous to access. In the medical world, they could be used to transport life-saving blood donations or to deliver treatment to people with severely infectious, life-threatening illnesses.
The more we thought about it, the more we realised that drones could quite easily be used by most of our clients. Tech-savvy Gemalto will no doubt be keeping abreast of related security issues, while the RSA may be interested in tracking the potential societal implications of UAVs. Laing O'Rourke is already using drone technology to provide aerial footage of its construction sites.
As far as Wardour's concerned, there's certainly scope to experiment with aerial cameras on some of our shoots. But perhaps the top takeaway for us is the concept that gave rise to the drone: we should constantly be looking for ways to boldly go where no man has gone before.
Drones are set to take off (sorry, I couldn't resist) and we'll be keeping tabs on developments in the coming months. Who knows, maybe our next storyboard for Grosvenor will include some inspiring panoramic bird's-eye shots… In the meantime, we'll continue to push boundaries with everything we write, shoot and design – drone-style.
Stay ahead of the curve
Sign up to our emails