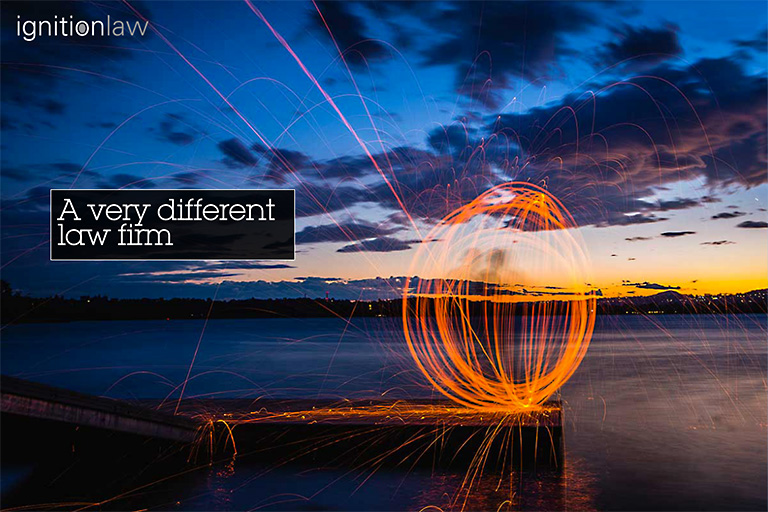 When we first met the Ignition Law team at their offices near Liverpool Street, what we saw was definitely not what we were expecting. Coming out of the lift, we were welcomed by a buzzing social area, which reminded us more of a trendy Shoreditch bar than a corporate meeting place. Modern art hung on exposed brickwork and there was a bar where everyone could help themselves to coffee, fresh juice and beer (if so inclined). All around, young entrepreneurs were chatting about their new start-up ventures. Essentially, we saw all the things we were not expecting to find at a law firm.
What we came to realise was that this environment was a true reflection of Ignition Law's ethos and vision: a start-up law firm that works with other start-ups. This was the philosophy that would guide our subsequent work with the company.
The reason for meeting was to discuss the next phase in Ignition Law's development. The team felt that their current website didn't reflect who they were and so the goal was to break away from the style of a traditional law firm and create something that truly represented them.
The first step was to develop a look and feel. We began by presenting the firm with a range of mood boards that reflected the various creative routes we could take. We then produced a set of webpage designs, which combined the visuals that we all agreed worked best.
The company's offices provided the perfect backdrop for shooting photography that would complement the website's new look and feel. It was vital that the personality of the firm, as well as their working environment, really came through. So, one Thursday morning in November, we went along to the firm's offices and shot a number of photos that did exactly that.
Once the designs were complete, our creative team handed the project over to Wardour's technical wizards. The site was initially created as modular front-end templates, using the wireframes as a visual guide. Once we were all happy with the functionality and the user experience, the templates were linked to the CMS and all of the imagery and content was incorporated.
We ended up with a simple, informative and visually striking website that embodies Ignition Law's ethos. It's a very different digital platform for 'a very different law firm'.
Stay ahead of the curve
Sign up to our emails