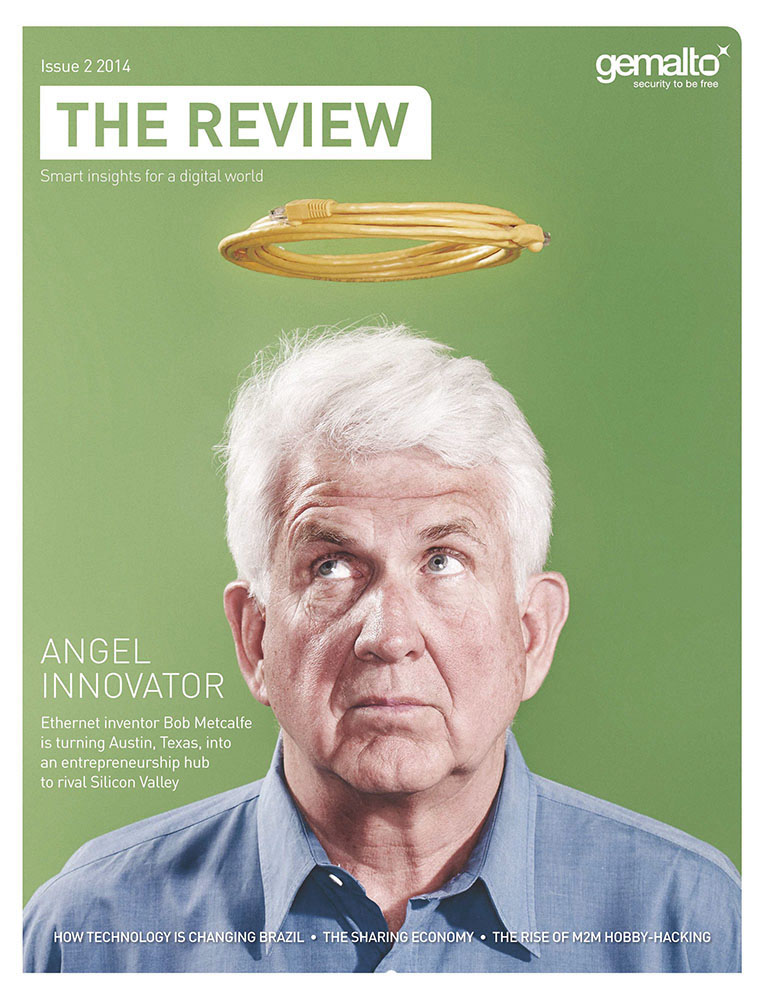 This week, we were shortlisted for ‪BSME Business Cover of the Year. For anyone unfamiliar with the story behind our entry, we thought we'd revisit it…‬‬‬‬
Last year's spring issue of The Review (the quarterly print mag we produce for Gemalto) featured articles about digital security in Brazil, the sharing economy and exclusive interviews with industry experts. Among these was an interview with Bob Metcalfe – the man who invented Ethernet.
Within seconds of getting in touch with Bob, we knew he was up for a photo shoot that would push the boundaries. And as he's Director of Innovation at the University of Texas at Austin, we weren't too surprised.
After some discussion, we decided that we wouldn't shoot Bob on the university campus. He's an incredibly interesting guy and we wanted his personality to come through, so we opted for a studio setting where we could shoot against a vivid, but simple, backdrop.
We commissioned a great photographer in Texas called Jay B Sauceda. A cut above the rest, he was really excited about pushing portraiture beyond the norm. We discussed several ideas: Bob looking through the coiled Ethernet cable; the cable entering one ear and emerging out of the other… so we briefed Jay to try a range of different things.
The shoot went brilliantly. Bob and Jay enjoyed the freedom we had given them, and this led to the idea that sparked the cover shot: coiling the Ethernet cable into a halo and having Bob wryly glancing upwards.
As with any good cover, the result speaks for itself. It captures the spirit of what Bob lives and breathes: looking at things differently and pushing the boundaries to find new and better ways to 'do stuff' and improve lives.
Stay ahead of the curve
Sign up to our emails